Gulf Coast vacation: 5 of the best beaches near Beaumont, Port Arthur in SETX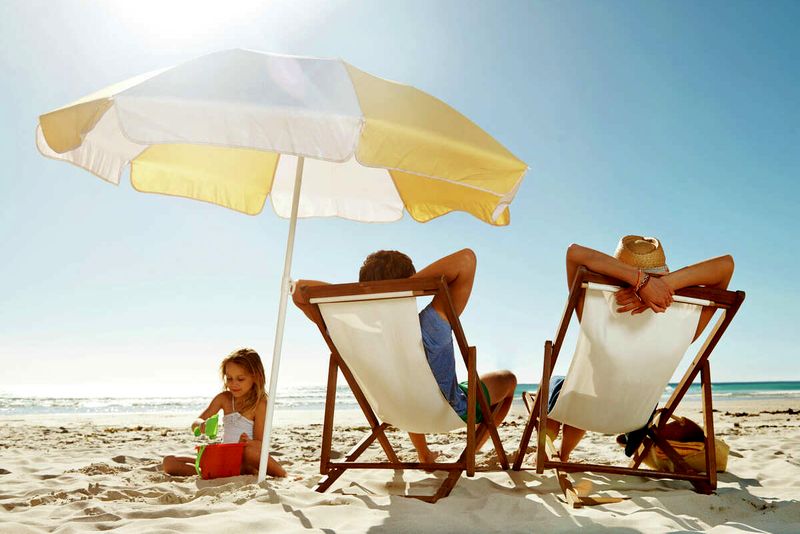 Summer is just around the corner, and for many that means planning their vacation and heading to the beach.
Along the Gulf Coast, there are plenty of places to relax on the sand, whether your next beach vacation includes activities for the kids, camping or a quiet stroll along the shore.
Some beaches near Beaumont and Port Arthur are among the best on the southeastern Gulf Coast, according to Tripadvisor reviews. Here are five of the top-rated places to consider when planning a Gulf Coast vacation or weekend getaway near Beaumont and Port Arthur.
Gulf Coast vacation: Best beaches near Beaumont-PA
Mae's Beach
Mae's Beach is located about 27 miles from Port Arthur, across the Texas state line from Louisiana. Mae's Beach has been rated five out of five stars on Tripadvisor, albeit with only a handful of reviews, and has been called a great place for couples, with a recommended length of stay of more than three hours. In addition, Mae's Beach was rated 4.5 out of five stars on Google based on 135 reviews, with comments highlighting good fishing and sunset views.
Amenities: Mae's Beach is pet-friendly and offers free admission and parking nearby. Beach campers can enjoy a lower tide at the beachfront and RV sites, and overnight accommodations are also available near the beach.
Location: Mae's Beach Cameron, La.
Holly Beach
Holly Beach, known by locals as the "Cajun Riviera," is about 40 miles across the Louisiana border. The beach community of Holly Beach was destroyed during Hurricane Rita and has been slowly rebuilt with beach houses and RV parks where people can stay, according to Ursula Lejeune of Holly Beach Rentals, based in Cameron, La.
"Holly Beach is a great place for fishing and crabbing," Lejeune said. "The beach is known for its beautiful shells and is ideal for people who like to walk on the beach.
Lejeune said the beach doesn't have many restaurant options and recommended that visitors bring food and drinks if they plan a trip to this part of the Louisiana coast.
Reviews on Tripadvisor highlight the quiet beaches, low crowds and plenty of shells. Holly Beach receives 4 out of 5 stars from more than 80 reviews.
Amenities: Driving on the shore, camping, and pets are allowed at Holly Beach. The beach has a playground for children and a wading pool for those who want to rinse off after a visit to the beach.
Location: Highway 82 in Holly Beach Subdivision Cameron, La.
Sea Rim State Park
Sea Rim State Park is located in the southeasternmost corner of the Texas Gulf Coast. According to the Texas Parks and Wildlife Department (TPWD) website, the park has more than five miles of shoreline and 4,000 acres of marsh.
Sea Rim State Park is rated four out of five stars and more than 180 reviews on Tripadvisor and is the No. 3 most popular destination in Port Arthur. Reviews highlight the fishing opportunities in the area as well as the quiet, clean beach.
The park also has an easy beach area and offers a range of recreational activities including camping, kayaking, swimming, fishing, hunting and nature trail hikes. Admission to the park is $3 for adults and free for children under 12.
Amenities: Sea Rim State Park offers three different campgrounds, including a campground with electric hookups, a basic campground and a basic floating boat campground. The campsites with electric hookups have a picnic table, tent pad, outdoor grill, lamppost with water hookup, and 50/30 amp hookup.
The basic campsites do not have these amenities and provide space for people to pitch a tent for the night. The boat site offers a 13-foot by 20-foot floating wooden tent site. For more information, visit the TPWD State Park website on camping reservations.

Location: 19335 South Gulfway Drive Sabine Pass, Texas
Rutherford Beach
Rutherford Beach is 62 miles from Port Arthur in Cameron Parish, La.
Overall, Rutherford Beach is the #1 destination in Hackberry and has a four-star rating on Tripadvisor, albeit with limited reviews. Quiet beaches, good fishing and shell collecting are some of the highlights mentioned in the site's reviews.
Rutherford Beach is rated 4.5 out of five stars and 482 reviews on Google, with many reviewers highlighting the beach as a free camping option. Reviewers also mention other highlights of the beach, such as good fishing, especially for visitors looking to catch redfish and crab.
Amenities: Driving on the beach is allowed. The area has a covered picnic pavilion with tables, grills and two outdoor showers. A restroom is also located in the parking lot. Overnight camping is permitted and pets are allowed on the beach.
The Rutherford Department of Fish and Wildlife cautions that campers should be aware of tides when choosing a beach campsite, as high winds or possible storms can raise water levels significantly and create hazardous conditions.
Location: Parish Road 359 Creole, La.
Crystal Beach
Located on the Bolivar Peninsula, Crystal Beach is a popular area for beachgoers and anglers.
Out of five stars, Crystal Beach carries a 3.5-star rating based on more than 140 Tripadvisor reviews.
As for Crystal Beach and nearby highlights, reviews point to entertainment options for children, such as a waterslide park, and adult options, such as skydiving and a golf course, as well as shopping and restaurants near the beach. Other reviews mention drawbacks such as larger crowds during high season with possible delays in getting to the beach.
Amenities: Crystal Beach also offers parking and camping, though visitors need a ticket, which is available for $10 at local businesses. Crystal Beach is pet-friendly, and public restrooms are available nearby. Driving is allowed on the beach.
Location: 1942 Avenue J, Crystal Beach, Texas
Was this article helpful?
1
Posted by:
👨 Alice J. Carey